Greetings Parents and Families of Melrose Park Elementary School,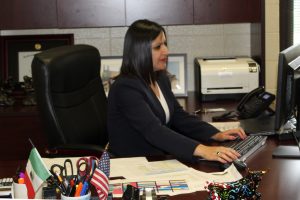 My name is Leticia Valadez, and it is a sincere honor to introduce myself to you as the new principal of Melrose Park Elementary School. I am passionate about education and about providing students with an engaging learning experience each and every day. As the new principal, I look forward to working with you and the staff to ensure that our students achieve social-emotional and academic success. Parents are every child's first teacher, and I believe that in order to accomplish this level of success, our partnership is essential.
Before joining the Maywood-Melrose Park-Broadview community, I served as an educator and school leader for 14 years. My professional experience includes working with culturally and diverse student populations in various language programs, special education, and advanced academic programs. I devoted my teaching career to serving the students of Chicago both as a third and fourth grade bilingual classroom teacher and as a middle school mathematics educator. In my most recent role as school administrator, I represented the west suburban community of Carpentersville located in the Barrington 220 Community Unit School District.
My students have been my greatest source of inspiration. They have taught me more about myself than I could have imagined. Through them, I learned the significance of acknowledging, embracing, and celebrating my identity and using my story as a source of inspiration for students to achieve success through education. It is my belief that educators serve as mirrors of hope and inspiration for all children, and I am committed to working in partnership with the entire Melrose Park School community to ensure that all students take pride in their cultural heritage while being inspired, empowered, and actively engaged in their education. My greatest desire is to provide leadership that will facilitate a school environment where students and their teachers thrive.
Parents, teachers, support staff, community partners, and administrators all have a responsibility to encourage our children to become active learners and future leaders in our community. I look forward to working with you in this endeavor.
In closing, I am humbled by the opportunity that you and the Board of Education have provided me to serve as your principal. I look forward to the opportunity to work along your side.
In partnership,
Leticia Valadez, Principal
Estimadas familias de la escuela primaria Melrose Park,
Mi nombre es Leticia Valadez y es un honor sincero introducírme como la nueva directora de la escuela primaria Melrose Park. Como líder me apacióna el proveer una educación enriquecida a todos nuestros estudiantes. Los padres son los primeros maestros de nuestros niños y es mi filosofía que nuestra alianza es esencial para poder lograr el éxito académico y socio emocional de nuestros estudiantes.
Antes de formar parte de la comunidad de Maywood-Melrose Park-Broadview, tuve el privilegio de enseñar y ser líder en la rama de la educación por 14 años. Atraves de lo largo de mi carrera profesional trabaje con estudiantes multilenguajes y de culturas multiétnicas. He influenciado a estudiantes que participaron en educación especial, programas de lenguajes y programas de posición avanzada. Serví como maestra bilingüe de tercer y cuarto grado por más de una década en Chicago además de trabajar como maestra de matemáticas en la escuela intermedia. En los últimos años representé a la comunidad de Carpentersville como líder en el distrito de Barrington 220.
Mis estudiantes han sido mi fuente más grande de inspiración. Ellos me han enseñado mucho más sobre mí de lo que algún día pude imaginar. Es atraves de ellos que aprendí la importancia de valorar y celebrar mi identidad y utilizar mi trayectoria como una fuente de inspiración para otros estudiantes que como yo pueden lograr el éxito atraves de la educación. Nuestros maestros representan lo que es posible para nuestros niños ya que son reflejos de los sueños que ellos son capases de lograr. Como la nueva directora, me comprometo a formar alianzas con la comunidad de Melrose Park para asegurar que nuestros estudiantes se sientan orgullosos de sus raíces y cultura a la vez de participar activamente en su educación. Mi mayor deseo es de fomentar un ambiente escolar donde todos nuestros estudiantes y maestros puedan prosperar.
Todos los padres, maestros, miembros de nuestra comunidad y administradores tenemos la responsabilidad de alentar a nuestros niños para que se mantengan enfocados en sus logros académicos y aspiren a ser los futuros lideres de nuestra comunidad. Espero ansiosamente la oportunidad de trabajar con todos ustedes para lograr estas metas.
En resumen, es un honor que ustedes y la junta de educación me han brindado el privilegio de ser su directora. Espero con emoción trabajar pronto con todos ustedes.
Sinceramente,
Leticia Valadez, Principal